The loveliest stay I have experienced
The moment I stepped out of the car I knew I was in an extraordinary place. This beautiful home is nestled into lush gardens and creates a feeling of peace and comfort. The air is a complex aroma of flowers, forest and ocean. And everywhere you look is a new view pleasing to the eye. The home itself is an art lovers dream come true. Perfectly displayed paintings, in a cozy home make it the perfect place to enjoy and explore the works of a talented artist. Every detail has been attended to to ensure a comfortable unique experience. Each level of the home allows stunning views of the gardens and ocean. As an enthusiast of retreat centres and botanical gardens from Vancover Island to Findhorn, this hidden gem was by far the loveliest stay I have experienced.

Leslee Larsen and Peter, Cleveland, NS

A hidden gem and magical treasure
If you are looking for an adventure to awaken your soul, look no further! Marcus and Stephanie have lovingly restored the enchantment of John Beardman's former art studio and opened the house to allow people a glimpse of his inspiration – the ocean, the landscape, the beauty and the people invite you to experience a holiday of a lifetime! We loved everything! Arriving late at night Stephanie had generously and kindly managed to find us provisions for breakfast, including a gluten free loaf of bread! Marcus's smile is as broad as the ocean and their hospitality and warmth will warm your heart even in the start of Fall! The house is spectacularly situated on the cliff tops so that you can fall asleep to the sounds of the ocean breaking on the shores. Outside you meet with enchanting gardens and glimpse eternity in the serenity of the skylines. Inside the house Beardman's art is beautifully positioned, the colors of his work tastefully complimented by the simplicity and taste in furnishings, and the house is comfortable and private for your own use. Cape Breton Island was wonderful to be in during the Celtic Colors, and Marcus had an added gesture of welcome for us - his espresso machine! Next time Marcus we will take you up on the offer of those cups of coffee! We had a wonderful time and most certainly recommend this wonderful oasis as a place to stay – get in there quickly, this was their first season and I am sure the carefully kept secret will very soon get out that this is THE place to stay on Cape Breton. Make this top of your vacation list for 2019 and beyond!

Thank you for all you do! And see you again soon!
Cath and Liz, Vancouver, BC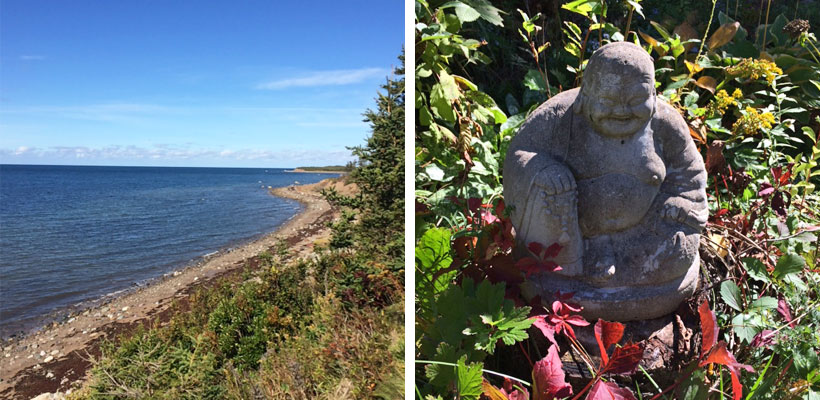 We loved being here
Thank you! for such a wonderful week at Beardmans! The house is amazing and the gardens are beautiful. We loved being here and don't want to leave. Walks on the beach and thoses amazing sunsets are some of the most cherished memories we will have of Cape Breton area. We are 2,788 km from home in Southern Indiana, but you and Beardmans Art House made us feel right at home! Thank you!

Deavron & Jeanene

One of a kind vacation home in Nova Scotia
Dear Marcus, dear Stefanie,
thank you so much for allowing us to stay in your beautiful rental home! The house was renovated and arranged with lots of love to every detail. We also love the fact, that the former owner John Beardman is present in the whole house with his paintings and pottery. Our arrival shortly before midnight wasn't an issue. We were even presented with a breakfast for the next morning. The owners are always available and very hospitable. We received many useful tips and implemented them. The access to the beach is perfect and the beach is just beautiful. Our kids enjoyed their time at and in the water and had a blast. The vacation home is surely one of a kind and absolutely recommendable.

Kind regards from
Simone und Reimar with Katharina, Sophie, Jakob und Lisa
(translated from German)

A memorable time
Dear Stef, dear Marcus,
the time we spent in your extraordinary beautiful house, was a memorable time for sure and went by way too fast. That is how you imagine your vacation home. If it wouldn't be on the other side of the Atlantic ocean (for us), we would be regular guests for sure! The kids were also very impressed with their stay at the Beardmans. We wish you the best of luck and success with this amazing place.

Peter, Julia, Anton, Carla, Florian
(translated from German)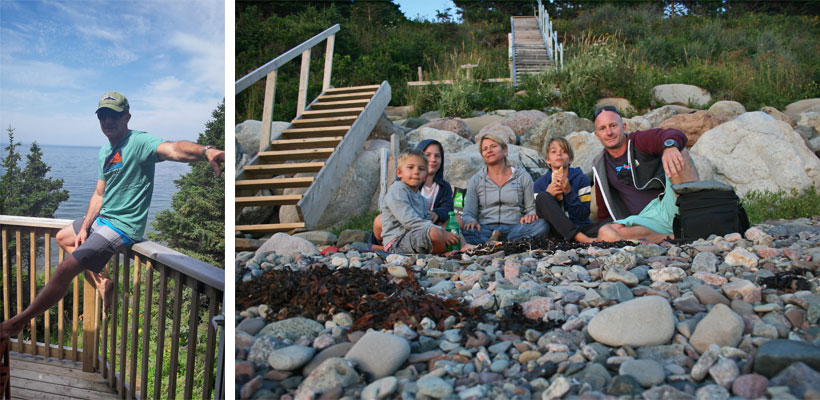 We hate to leave
Thank you for the gift of this house & this place. We hate to leave and look forward to returning.

Bill & Debbie
Brooklyn, NY

A wonderful week
Marcus & Stefanie,
thanks so much for a wonderful week! We had a great time exploring Cape Breton by foot, bike, sea kayak and paddle board. It is our second visit to the Island and it is so beautiful here.

Tony, Pam, John, Katherine & Chris
Baltimore, MD, USA

A beautiful place that offers it all!
Thank you for the stay - a beautiful place that offers it all! The privacy and ocean views are incredible. Amazing sunsets, gardens - the kids loved going down to the water each day. Thanks again - much appreciation!

Lori, Jason, Julia & Hudson
Waterloo, Ontario, Canada

What a lovely retreat!
Thank you, Marcus and Stefanie, for your hospitality and kindness and great help as we explored Cape Breton and enjoyed this lovely house and respite. We were so inspired by our surroundings and John Beardmans art and energy, our girls even took to painting in the woods right where John used to and even sketched on the beach! We hope to be back again!

Andy, Cynthia, Abigail, Anielia, MA

A gem of a house
Dear Marcus and Stephanie,
we have had a wonderful week in this superb house. Thank you for everything that you have done to make it so warm and welcoming. The location is wonderful and from watching the stars from our bed to eating dinner in the dining room, the whole experience has been a joy - the sunsets are spectacular! We loved the warm welcome from you both and our "chats" with Marcus - you are natural hosts. Thanks you for our week in this gem of a house.

Kind regards,
Peter and Anita, Lancashire, U.K.

You can find more guest reviews here...